Next-Generation supply chains are doing well thanks to technology and automation
In today's fast-paced and interconnected world, the logistics and supply chain industry is undergoing a significant transformation. As businesses strive to meet the ever-increasing demands of customers, technology and automation have emerged as the driving forces revolutionising the logistics landscape. From optimising supply chain operations to enhancing visibility and efficiency, tech-enabled solutions have become essential for staying ahead in this competitive domain. 
Within the multifaceted logistics industry, we, at Mahindra Logistics, pride ourselves on our all-encompassing service portfolio. Our cutting-edge "One-View Dashboard" stands as a testament to our commitment to innovation. This singular dashboard serves as a central nerve centre, negating the need for multiple interventions across diverse platforms. Whereas, our Integrated Analytics & Overall Ecosystem further enriches customer experience, delivering real-time visibility, flexibility, and insights. This empowers our customers to gain full control over their supply chains, positioning Mahindra Logistics as a strategic partner. This ecosystem expertly configures, optimises, and executes supply chain requirements. 
Recent industry advancements have highlighted several key areas of technological developments reshaping logistics and supply chain practices. Robotics and automation have paved the way for smarter warehouses and streamlined inventory management, significantly reducing processing times and minimising errors. Data analytics and AI-powered solutions are empowering businesses to predict demand patterns, optimize routes, and improve last-mile delivery accuracy. Additionally, Augmented Reality (AR) and Virtual Reality (VR) are transforming employee training, ensuring enhanced safety protocols, and increased efficiency. 
One of our core strengths lies in our tech-first mindset and approach. Embracing the latest advancements, we have integrated technology throughout our operations. This not only enables us to deliver top-notch service quality but also ensures consistent and streamlined processes across the organisation. As we embark on our journey towards digital transformation in FY24, we remain committed to enhancing adoption of tech systems, enabling optimal customer satisfaction through the right mix of service and technology, and driving process automation to achieve end-to-end visibility. Our core focus in digital transformation includes customer, competition, data, innovation, and value. 
Our data lake project is set to revolutionize the way we harness data to drive efficiency and end to end visibility. Our efforts are focussed towards exploring and integrating cutting-edge technologies ensuring we are well-equipped to adapt to evolving industry trends and stay ahead of the curve. 
We take immense pride in developing and deploying our own transport and warehouse management systems, as well as a robust data analytics suite. We invest significantly in our tech capabilities to create scalable, flexible, and reliable IT solutions for our diverse range of services and clients. 
Automation is at the core of our tech-driven approach. We do load and route optimisation across 223 warehouse locations, leveraging AI to predict turnaround times for heavy transportation across major commercial lines to our facilities. While similar tools exist in the logistics space, we set ourselves apart by developing our own prediction models through tweaking various parameters. This meticulous approach ensures that our solutions are fine-tuned to meet the specific needs of our business and clients. 
Recognising our responsibility towards emissions reduction, we are proactively harnessing technology to create sustainable logistics solutions. By incorporating emerging technologies, optimising supply chain processes, and reducing our carbon footprint, we are committed to creating a greener and more efficient future for the logistics industry.
Our culture of upskilling keeps us at tech's forefront. We trained users in PowerBI for decentralized, automated reporting and have managed to keep the attrition contained for our tech operations. We give upskilling opportunities through Udemy licenses to learn new skills, and offer career paths to progress their tech careers, which has had a positive impact on our attrition levels.
The logistics and supply chain industry continues to undergo transformative changes powered by technology and automation. At Mahindra Logistics, we are not only keeping pace with these developments but leading the way through our custom-built tech suite, automation-driven operations, and focus on sustainable innovation. By harnessing the power of emerging technologies and investing in our tech workforce, we have positioned ourselves as one of the leading logistics players, providing unparalleled services to our clients and driving the industry towards a digitally enabled and sustainable future.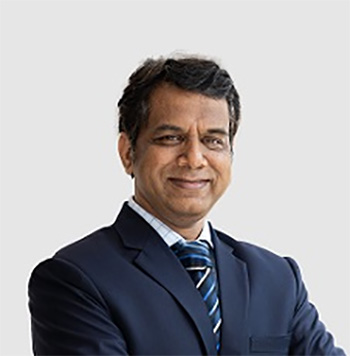 Sreenivas Pamidimukkala,
Chief Information Officer,
Mahindra Logistics Ltd.
Reimagining the supply chain

Tips for warehouse automation to
maximise output
How to get the most from your
3PL engagement?