Successfully Unlocking ₹150 Crores of Working Capital for a Leading Pharma Company
The pharma industry has to stock up its inventory regularly. However, when the old stock fails to sell, the companies end up with excess stock holding. A leading pharmaceutical company, operating through six manufacturing facilities, five large warehouses and over 300 distributors was facing similar challenges. Despite having a complex network of logistics partners, the company had high inventory holding, which was impacting its financial performance.
Reimagining Supply Chain and Distribution of a Leading Pharmaceutical Company
The challenges that needed to be addressed included high inventory holding time, high operational costs, delayed deliveries due to unreliable long-haul movement and subcontracted deliveries. This also resulted into higher damages due to multiple handovers of consignments, lack of integrated communication system and low profitability due to blocked working capital in inventories at various distribution points.
As an integrated logistics solutions provider, we ensured delivery in three days for all full truckload (FTL) line-haul movements between factory-warehouse-depots anywhere in the country. We enabled secondary movement between warehouse-depot-distributor by utilising a combination of full and part truckloads, supported by our strong network of express hubs and processing centres serving over 19,000 pin codes within the country. We deployed technology driven processes for generating automatic pickup requests, consignment notes, tracking, proof of delivery, and billing. We also enabled the customer to have full visibility and control over the movement of its products. This led to the closing of one-third of its short-haul depots resulting into more efficient operations.
Business Impact: Igniting Success through our Operations Excellence
The achievements were profound as we successfully transitioned the clients' supply chain and distribution from multiple, localised logistics partners to a single integrated logistics solution provider with a national footprint, decreasing inventory holding time from 70 days to 30 days, consolidating short-haul depots from 30 to 20, transforming a high risk of stockouts into 98% adherence to stock availability, and substantially reducing damages or defects from as high as 5% to nearly zero.
With our technology enabled solutions, the client now has end-to-end visibility and full control over inventory and working capital and is actively pursuing the expansion of its distribution network while aiming to further decrease the number of depots to less than 10. These milestones of success, achieved through our tailored made solutions, culminated in unlocking a substantial working capital of INR 150 crores, achieving an impressive 50% reduction in inventory, and streamlining operations with a notable 33% decrease in the number of depots. These results exemplify our unwavering commitment to ignite success and stand as a testament to the trust our clients have in us.
Leading the Charge in EV Conversions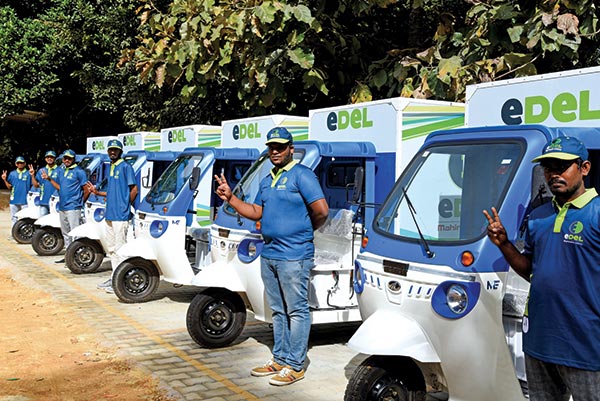 In less than two years of operation, eDeL has helped us reach significant milestones. Our successful operation of EVs in the last-mile segment quickly gained the trust of our customers and paved the way for increased adoption of electric vehicles. Our strong performance, in comparison to other service providers, has elevated our position as a leader in EV conversions for last-mile deliveries. With a solid foundation in place, we seized the opportunity to rapidly scale our eDeL fleet from 500 to 1000 EVs within just six months. The recent launch of electric bikes has added to the greater adoption of EVs in hyper-local and quick commerce spaces.
Reimagining the supply chain

Tips for warehouse automation to
maximise output
How to get the most from your
3PL engagement?